There are close to 60 million people in the US who have some form of joint discomfort. It can be experienced in almost any part of the body.
The discomfort from joints can range from being simply annoying to so severe that it is crippling and prevents you from having a normal life.
Over-the-counter drugs and prescription medications have their own negative side effects, some of which are very serious.
Pain-killer medications often cause addiction. Over-the-counter drugs often cause ulcers, as well as, holes in the stomach wall and intestinal walls, often resulting in death.
For a list of what these over-the-counter drugs are: Non-Steroidal Anti-Inflammatory Drugs (NSAIDs).
Real Relief for Joints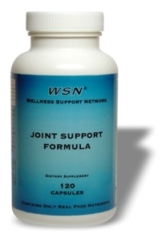 The WSN Joint Support Formula is the most advanced product of its kind available anywhere for any price.
No other natural product contains this combination of ingredients or is this effective.
The ingredients are all-natural and will not interfere or interact in any way with any medications you may be taking.

Learn about Foodform® Ingredients
Many of our customers will experience the results within the first 30 days. Some could take two to three months to experience the full results.
The WSN® Joint Support Formula is completely natural and safe! We're so sure about the quality and effectiveness of this product, that we offer a 90-day money-back guarantee on your initial order.
A bottle of the WSN® Joint Support Formula which contains 120 capsules (a 30-day supply) is now $47.70.
Order the WSN® Joint Support Formula today and experience the results for yourself!

Order the WSN® Joint Support Formula Now
or call (888) 580-9390 or (818) 241-9080

or email: info@realfoodnutrients.com