What is Neuropathy?
Neuropathy is where the outer sheathing (protective covering, also called the myelin sheath) of nerve cells (also called neurons) starts to degenerate. This is similar to an electrical wire that is covered with insulation, and the insulation is beginning to crumble. Without insulation the unprotected wire will start short-circuiting.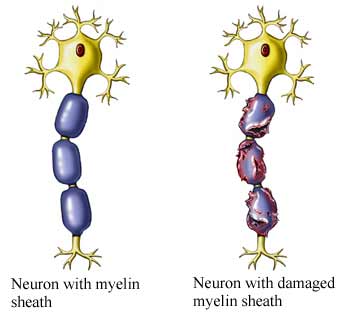 In the same way, when the sheathing of nerve cells degenerate, the signals being transmitted are scrambled, resulting in your body receiving signals that are interpreted as numbness, heat, cold, tingling, pain, etc. in the toes, feet legs, fingers, hands and arms.

Here are some of the various terms for neuropathy:

Paresthesia: an unusual or unexplained tingling, pricking, or burning sensation on the skin.

Neuritis: inflammation of a nerve, accompanied by pain, loss of reflexes, and muscle shrinkage.

Neuralgia: an intermittent and often severe pain in a part of the body along the path of a nerve, especially when there is no physical change in the nerve itself.

Vertigo: a condition in which somebody feels a sensation of whirling or tilting that causes a loss of balance.

Dysesthesia: a condition in which light physical contact of the skin causes pain; abnormal sensations on the skin that can include burning, prickling, numbness, or pain.

Hypoesthesia: an unusually reduced sensitivity to touch; numbness. Also called hypesthesia.

Hypalgesia: reduced sensitivity to pain. Also called hypoalgesia.

Hyperalgesia: heightened sensitivity to pain or enhanced intensity of pain sensation; excessive sensitiveness to pain.

Hyperesthesia: a heightened sensitivity of a part of the body such as the skin, or of any of the senses.

If you are experiencing:
* Tingling or numbness in the fingers, toes or legs
* Feeling cold, burning or pain in the hands, feet or legs
* Extreme sensitivity to touch, even a light touch
* Sharp pains or cramps
* Loss of balance and coordination
Begin using the WSN® Nerve Support Formula, and help decrease or eliminate these problems!
Order the WSN® Nerve Support Formula Now!



The WSN® Nerve Support Formula is a medical food for the dietary management of neuropathy. To be used under medical supervision as part of your on-going medical treatment. This product is not intended for use by children under the age of twelve or by pregnant or lactating women in the treatment or management of neuropathy.