Spray Your Pain Away!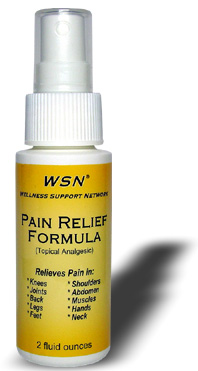 From head to toe, immediate relief from pain, gently and safely, without any need for habit-forming pain-killer drugs or medications.
Just a couple of sprays on the affected area and you will feel the pain begin to fade and disappear.

We're so sure about the effectiveness of the WSN® Pain Relief Spray and that you will experience relief from pain, that we offer a 90-day money-back guarantee on your initial order.

See what our customers say about using the WSN® Pain Relief spray.

For most people 2 to 3 sprays is sufficient. The bottle holds 375 sprays and costs $37.70.

Order the WSN® Pain Relief Spray on-line, or call us toll-free at (888) 580-9390 or (818) 241-9080 with any questions.

Order the WSN® Pain Relief Formula Now

or call (888) 580-9390 or (818) 241-9080

or contact us using our online form