Stop Suffering from
PMS Symptoms

Many women have to suffer every month with pain due to their menstrual cycle. For some this pain is just irritating, for others it can be severe.
The Cause
Each month, a woman's body prepares for reproduction by building up a lining in the uterus in preparation for the feeding and protection of a growing baby. If conception doesn't occur, the body removes this lining and prepares to start all over. This is called menstruation.
Besides the hormones that bring on this monthly cycle, there are chemicals produced by the woman's body that stimulate the muscles of the uterus to contract in order to remove the lining each month.
Women who have high levels of these chemicals experience more intense contractions and more pain. These chemicals have been linked to vomiting, diarrhea, and headaches that can accompany painful periods.
A Solution to the Problem
The WSN® Painful Menstruation Relief Formula now provides an all-natural solution to the problems that accompany this monthly cycle.

When taken as directed it is extremely effective in reducing or eliminating pain, cramps, nausea and chills; and it improves mood.

Here is what one of our customers has to say about using it:




"I took the Menstruation Formula for two and a half weeks before my period and for the first time in my life I felt NO pain when my period started. Not even a minor ache. I was so shocked, it was pretty unbelievable to me." >>Full Story

From Valerie S. in California
The WSN® Painful Menstruation Relief Formula contains specific ingredients to relieve the cramping, which may be dull, intense, or sharp, as well as handling the aches, muscle tension, nausea, chills and mood.
The ingredients are all-natural and will not interfere or interact in any way with any medications you may be taking.
WSN® Painful Menstruation Formula Ingredients
(A Homeopathic Remedy)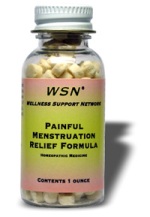 Please Note: Bottle size in picture is not actual bottle size.
Viburnum op - Extract from tree bark that relieves pain in the pelvic region and aching at the base of the spine. Also relieves nausea and pain in the back, down the thighs and lower abdomen.
Caulophyllum - Extract from the roots of a bush that relieves aching and pain in the small of the back, muscle tension in the thighs, relieves menstrual pain as well as nerve spasms.
Pulsatilla - Plant extract that relieves pain in the chest, stomach, and from coughing. Also, reduces chills and improves mood.
The WSN® Painful Menstruation Relief Formula is completely natural and safe! We're so sure about the quality and effectiveness of this product, that we offer a 90-day
money-back guarantee.
One bottle contains a 2 month supply and is $37.85.
Order the WSN® Painful Menstruation Relief Formula today and experience the results for yourself.

Order the WSN® Painful Menstruation
Relief Formula Now


Have a Question?
Contact Us Using our Online Form
---